Teacher Work Day
Monday, March 19th
No School for Students
---
World's Finest Chocolate Top Sellers!
Thank you to the parents, guardians, staff and students that supported and participated!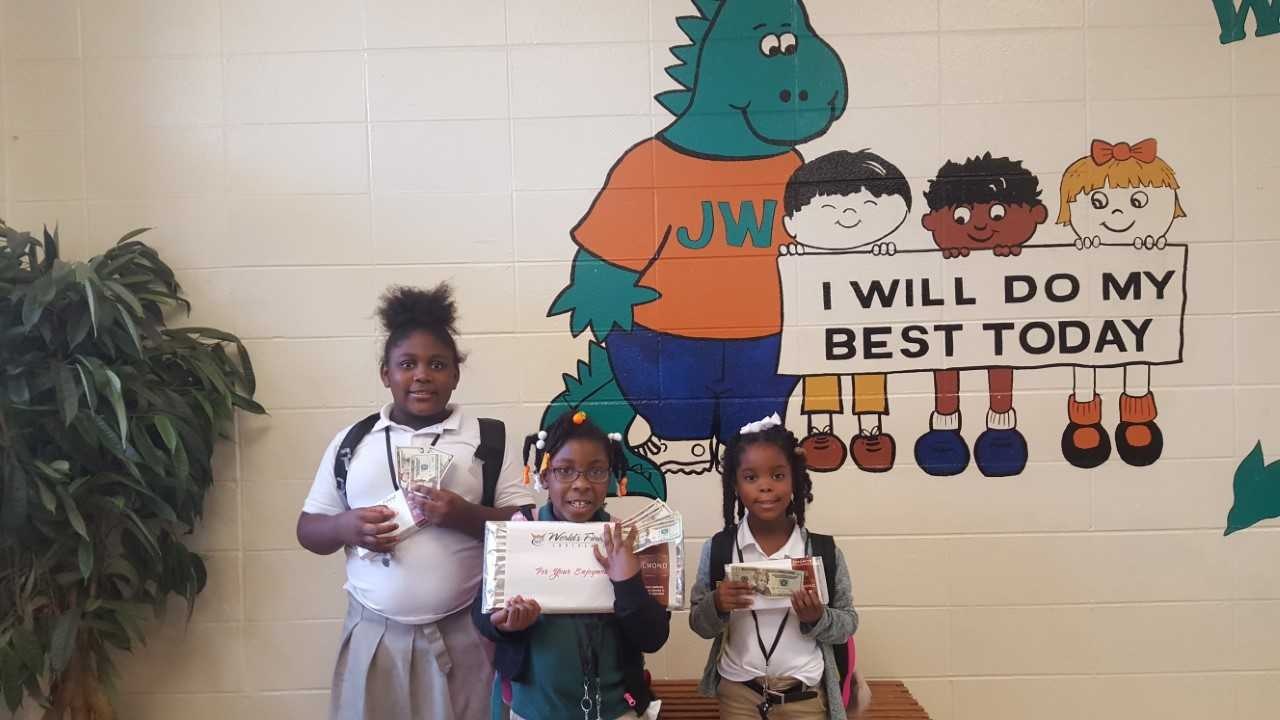 As a school we purchased $2,423.32 in books and merchandise!
We earned $605.83 in book fair profit!
Thank you faculty and staff for your purchases:
Mrs. Agee, Mrs. Booker, Mrs. Debbie, Ms. Gaines, Mrs. Gill, Mrs. Goff, and Mr. Trotter.
,

Teachers thank you for all of your help!
Thank you for your parent volunteers: Mr. Rose and Mrs. Bible!
---
---
Counseling Need's Assessment Surveys for Parents and Students
Students please look for your grade level range. Choices are K-2 OR 3-5.
---
Parent/Guardian BYOD Survey Link
PreK-1 Student BYOD Survey Link
Grades 2-5 Student BYOD Survey Link
---
New Check-In/Check-Out System
Be sure to bring a state or federal issued identification to be added to
the district's new Raptor System
---
MCPSS Annual Title I Parent and Family Engagement Survey
Please click here to complete the survey.
---
State Issued Photo Identification Required for School Entry
---
2017-2018 Parent-Student Handbook click the link above
---
Parent Newsletter September2017
---
2016-2017 John Will Elementary School Student Handbook PLEASE CLICK THE ABOVE LINK TO ACCESS THE 2016-2017 STUDENT...
---
Blessed Beginnings-343-0850 Boys/Girls Club-653-4429 Community Child Care & Development- Fenchers Child Care-343-7178...
---
Keyboarding Sites Keyboard challenge-adapted to grade level http://www.abcya.com/keyboard.htm Keyboard practice-quick start...
---
| | |
| --- | --- |
| Click here to access John Will's Labels for Education Information About Labels for Education® ... | |
---
| | |
| --- | --- |
| What is SchoolInfoApp? Apps by SchoolInfoApp allow school and district administrators to connect directly with students, parents,... | |
---
| | |
| --- | --- |
| Click here to find a list of participating products. Box Tops for Education has helped America's schools earn... | |
---
---
| | |
| --- | --- |
| Click the picture below to access live HW help: This service offers free homework help from subject specialists.Available... | |
---
---
| | |
| --- | --- |
| Through STI Home, parents can access important information and stay connected with their child's school and teacher. Use... | |
---
| | |
| --- | --- |
| CLICK HERE TO GO TO PAY PAMS PayPAMS was designed to provide parents with a safe and convenient way to prepay for student's... | |
---
| | |
| --- | --- |
| CLICK HERE TO ACCESS THE MCPSS SMART STUFF WIKI FOR TEACHERS Teachers you can find lots of technology information... | |
---
| | |
| --- | --- |
| Safe, Secure, and Effective Search Engine for MCPSS!We are pleased to announce the recent purchase of netTrekker d. i. for MCPSS... | |
---
| | |
| --- | --- |
| GREAT NEWS! APT launched LEARN360 on APTPLUS! Please log on to APTPLUS.org and check it out! The really good news... | |
---